No one likes dealing with squeaky brakes. Sometimes, though, the problem goes beyond being a common nuisance and are the result of worn parts or other vehicle problems. It's important to locate the source of the squeaking.
You're not alone if you've ever wondered, "Why do my brakes squeak?" At Hilton Head Volkswagen, we want to give drivers across Hardeeville, Bluffton, and Hilton Head Island a closer look at some of the most common causes of squeaking brakes. 
Related post: When Should You Replace Brake Pads? 
Moisture in the Air
If you notice your brakes squeaking after a rainstorm or on especially dewy mornings, it may just be the result of wet conditions. Moisture in the air will get on the rotors, which are made of steel. The result is a thin layer of rust, and the squeaking you hear is that rust being dislodged.
Generally, this isn't cause for alarm and doesn't signal any serious problems with your car. It'll typically go away after a few applications of the brake. If the sound persists, you might be dealing with one of the problems below.
Worn or Glazed Brake Pads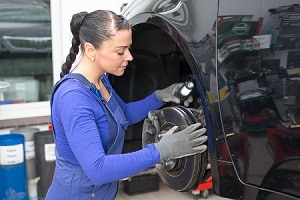 It's always smart to change your brake pads when they're less than a quarter-inch thick. You can see them through the wheels in most cases and judge their thickness for yourself without getting down and dirty.
When the frictional material on your brake pads is nearing its end, you'll often hear a squeal from a brake pad wear indicator. This device is supposed to squeal: Its sole purpose is to warn you that your pads need replacement.
Sometimes, the heat generated by stopping your car may cause your brake pads to glaze over time. When this happens, you can hear squeaking and will need to replace them, no matter how thick they are.
Glazed or Warped Rotors
Let's be clear: You won't need to replace your rotors nearly as often as your brake pads. Still, they can fall victim to some of the same problems as the pads; namely, warping or glazing over from excess heat and friction.
In these situations, rotors can often be resurfaced rather than totally replaced. An experienced technician can perform this service for you, so you can get the most value from your current set of rotors.
Broken Anti-Rattle Clips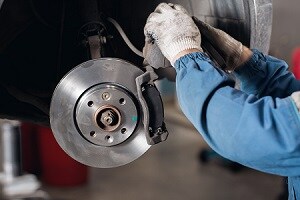 Your brake pads are secured on the calipers with pad stays and anti-rattle clips. The latter is used to keep the pads from vibrating or rattling when you use the brakes. If these clips are worn or broken, the brake pad vibration will cause squealing. You'll need to replace the clips to solve this problem.
Schedule Brake Repair with Us in Hardeeville, SC  
We hope these guidelines help you answer the question, "Why do my brakes squeak?" Now that you understand some of the causes, you can be a better judge of when you need brake repair.
If you live near Hardeeville, Bluffton, or Hilton Head Island, you can schedule brake service at Hilton Head Volkswagen. Whether you need new brake pads or service for your rotors or calipers, our certified, highly trained technicians can get the job done right!